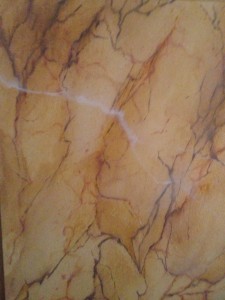 I  love painting, mixing the pigments, getting the colours just right, watching them match and set each other off. I always do my own scene painting, but I am also frequently asked to do the painting on other designers´ productions, as well as decorative painting on interiors.
At Raadvad Center (Nordic Center for the Preservation of Traditional Crafts) I ´ve done courses in Marbling, Woodgraining, Gilding, Coach-painting, and Trompe l´oeil.
In the Portfolio are examples of  different types of scene painting, trompe l´oeil, marbling and woodgraining.
"Frokost i det grønne" ("Dejeuner sur l´Herbe") ´85 and ´86, Black Horse Theatre, written and directed by Brigitte Kolerus.  A play in which we brought to life six of Manet´s best known paintings, here The Picnic, Nana, The Balcony.
"Sibiria" by Felix Mitterer, ´93,  Black Horse Theatre, directed by Brigitte Kolerus. Section of cyclorama backdrop, model and photo.
"Voix Humaine" & "The Beautiful Man" by Cocteau, ´93, Black Horse Theatre, directed by Brigitte Kolerus. Here the set is almost entirely  done as a line-drawing  in the style of Cocteau´s playful line.
"Vysotskij", ´90, Black Horse Theatre, Trompe l´oeil painting in process.
Marbling and woodgraining samples.